MSS Spring Meeting
April 20-21, 2018
Kahler Grand
Rochester, MN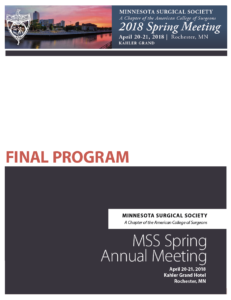 STEP ONE | CME EVALUATION

Complete the Spring Meeting evaluation by 

Sunday, May 20, 2018

Certificates will be emailed on 

Monday, May 21, 2018
STEP TWO | SELF-ASSESSMENT EXAMS (Optional)
You may elect to take all, part or none of the self-assessment exam.
A passing score of 75% or higher is required to receive self-assessment credit.
You may take an exam an unlimited number of times.
All Self-Assessment Exams must be completed within 10 days of the Annual Meeting.
Complete by 

Tuesday, May 1, 2018

 to receive Self-Assessment Credits.
Hotel
Kahler Grand Hotel
20 SW 2nd Ave.
Rochester, MN
Room Rate: $129.00 (plus tax) per night
Cut-Off: March 29, 2018
To reserve your guest room, call the Kahler Grand Hotel directly at 1-800-533-1655.
Check-in: 4:00pm
Check-out: 12:00pm
Parking
Self/Overnight: $16.00
Valet/Overnight: $24.00